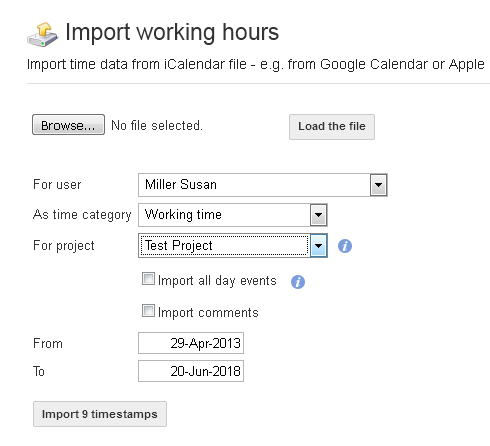 First click the 'Browse...' button and select an iCalendar file on your local disk. With the 'Load file' button the content of the iCalendar file is read and checked.
Then the following options are displayed:
'For User': If you are the in the role of an admin or timesheet-manager, you can select a user, the working time data will be imported for. Otherwise, the time entries are always imported for your own account.
'As time category': Select the time type as which the calendar entries are to be imported.
'From' 'To': After reading the data, the date of the earliest and the latest time entry will be automatically displayed here. The date range can then be restricted arbitrarily - so that only timestamps within the specified time period are imported.
Please click the 'Import X timestamps' button to definitive transfer the iCalendar data into the time tracking system. Where 'X' indicates the number of timestamps to be imported.